Opening hours & admission fee
Opening hours & admission fee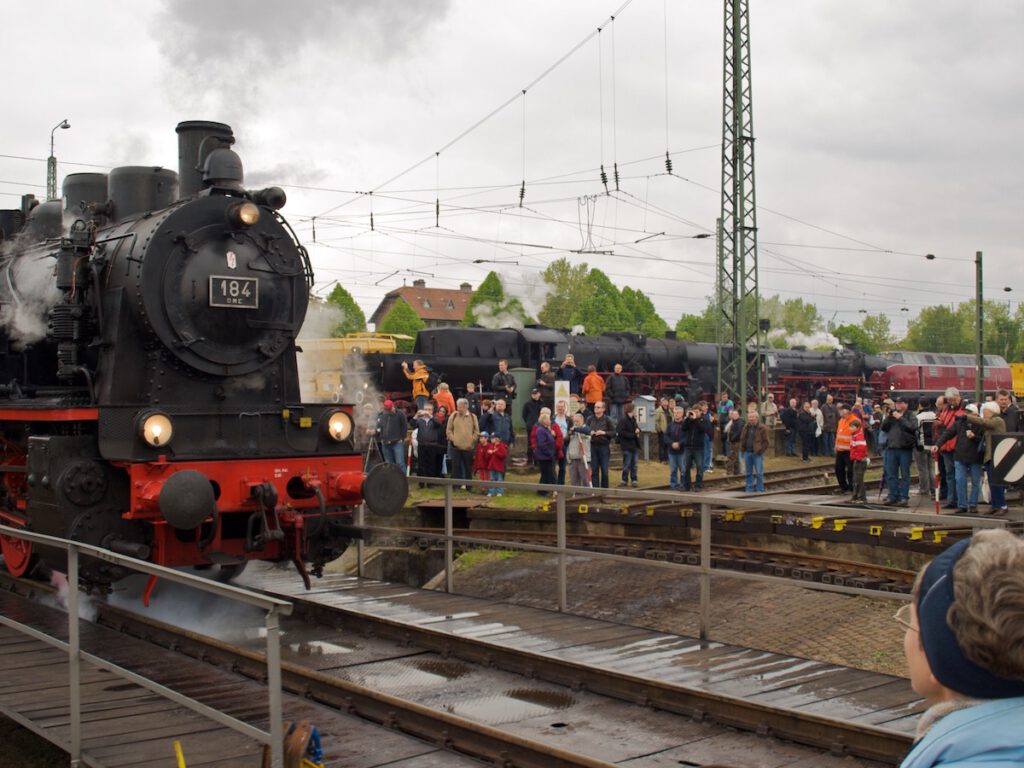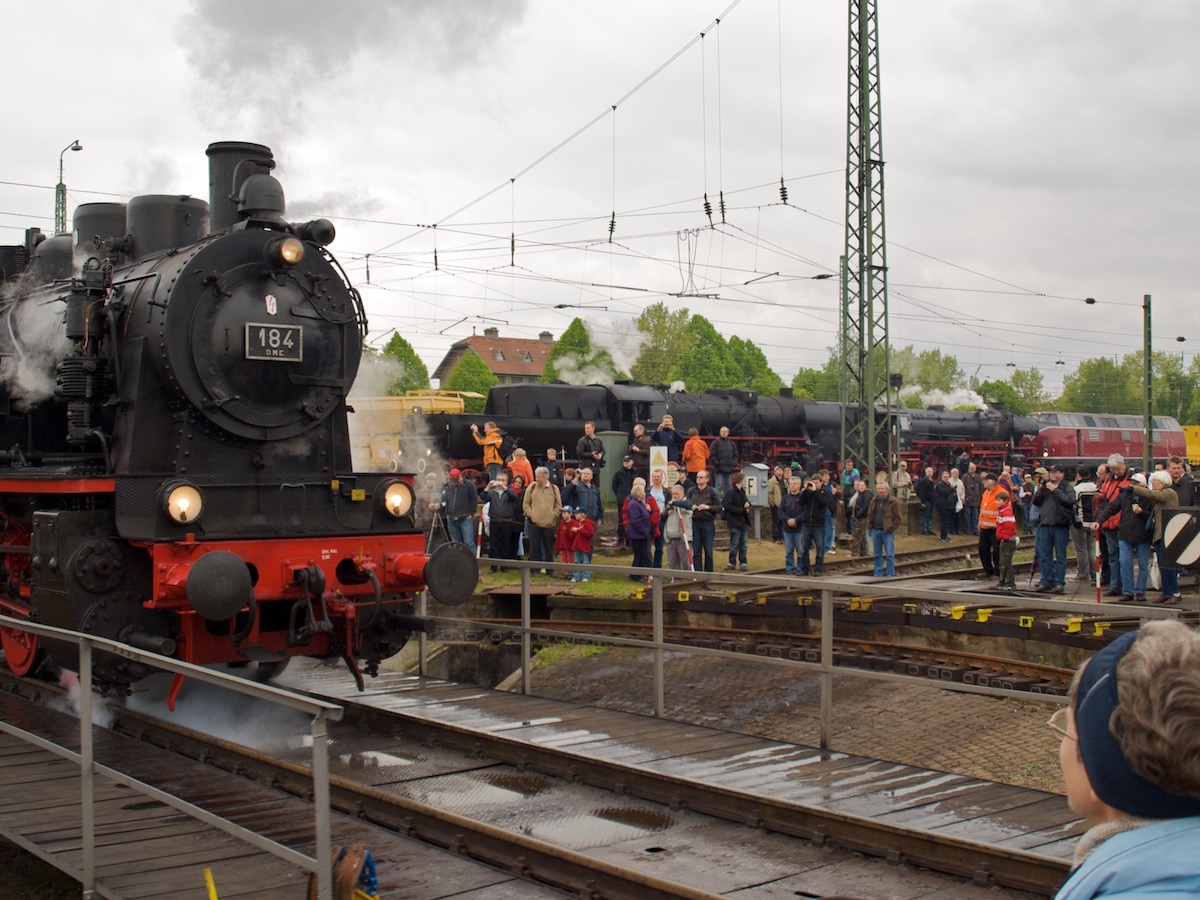 On regular opening days, the vehicle collection in the locomotive shed and the company grounds can be visited as part of a approx. 1 to 1.5-hour guided tour (included in admission). During the guided tour, our staff will explain a lot of interesting facts about the museum as well as the exhibited vehicles and will be happy to answer your questions. In addition, the exhibitions (historic tickets, historic uniforms, track superstructure, etc.) are accessible. In the cafeteria we offer coffee/tea, cold drinks and snacks. The souvenir and book sales are also open.
Since the vehicles in operation are also maintained on the exhibition grounds and railway operations take place in some areas, escorts by our staff are absolutely necessary for safety reasons. All exhibition areas are accessible at ground level and we endeavour to provide access for people with limited mobility. In the outdoor area, unevenness and soiling of the walkways cannot be ruled out. We therefore recommend that you wear flat and sturdy shoes.
On opening days without a special programme
Children (4-14 y.)

3,50 €

Families (2 adults + max. 3 children)

17,50 €
Children (4-14 y.)

4,00 €

Families (2 adults + max. 3 children)

20,00 €
* In addition to the museum, individual vehicles or operating facilities (workshops, training signal box, etc.) may be in operation or demonstrated. The exact scope is published about 2 weeks in advance in the calendar of events. The operating days normally take place on the first Sunday of every month from April to October.
You can purchase your tickets on site at the museum box office. For technical reasons, only cash payment is currently possible. Please note that the admission prices for special events – such as the Bahnwelttage – may vary. They will be published with the respective event.
Admission fee during the Corona pandemic
On opening days without a special programme
Visitors from 5 years

5,00 €
Visitors from 5 years

6,00 €
* Usually take place on the first Sunday of every month from April to October. Please refer to the calendar of events.
PLEASE NOTE:
During the Corona pandemic, guided tours will take place at the following times: 10:15 am, 12:15 pm, 2:15 pm.
The maximum number of participants per guided tour is limited to 10. Therefore, we kindly ask you to order your tickets in advance via our online shop. You can pay either in advance by bank transfer or in cash on site at the museum. We cannot guarantee that spontaneous or late visitors will be admitted.
We kindly ask you to arrive punctually at the appropriate time slots. Thank you very much!
Due to the current infection situation and the accompanying regulations of the city of Darmstadt, the visit of the museum is currently only possible with 3G proof, i.e. with complete vaccination or convalescent proof or daily (<24h) rapid test! A negative test result must be presented for all children from 6 years of age, whereby the school test booklet is sufficient for schoolchildren.
During the stay in the museum …
… wearing a mouth-nose protection (MNS) inside the buildings and vehicles is compulsory for all visitors aged 6 and over. MNS is not required on the outside grounds and in the engine shed as long as the minimum distance of 1.5 m can be maintained.
… please generally ensure that the minimum distance of 1.5 m is maintained from persons who do not belong to your household.
Special tours are possible both during and outside our regular opening hours. The basic price is 120,00 € (up to 15 persons). For each additional visitor we charge an additional € 8.00.
For school classes and kindergartens further special conditions apply. Please register your group in advance via info@bahnwelt.de. We will then discuss all details and any special requests with you.
Holders of the Ehrenamtscard, Darmstadt Card,  Teilhabecard of the City Darmstadt, Erstsemesterticket, Senior Citizen Pass of the City of Darmstadt, Ehrenamt for Darmstadt as well as people with a disabilities and their officially registered person of support will receive 50% discount.
Holders of the ER Club Card (Eisenbahn Romantik) and the Märklin Insider Club, Trix Professional Club, LGB Club Cards receive € 1.00 discount.