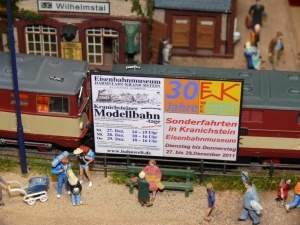 Model railway days "between the years" at the railway museum
The Railway Museum invites you to interesting exhibitions and demonstrations on 28 and 29 December from 10 am to 4 pm. The operation on the newly designed model railway layout in the training signal box is controlled with the original and functional signal box technology. The true-to-model replica of Darmstadt's main station from 1846 will also be shown in operation.
Other small, themed model railway demonstrations complete the programme. A model steam engine will demonstrate how steam power is used to generate electricity.
The uniform exhibition, the superstructure collection and the ticket exhibition can also be visited. In addition, there will be books, magazines and souvenirs from surplus stock in the archives, as well as surplus model railway items.
The cafeteria is open and you can meet friends and have a pleasant chat.
Guided tours of the museum will not take place due to construction, so admission is free. The association would be very pleased about a donation for the preservation of the original vehicles!