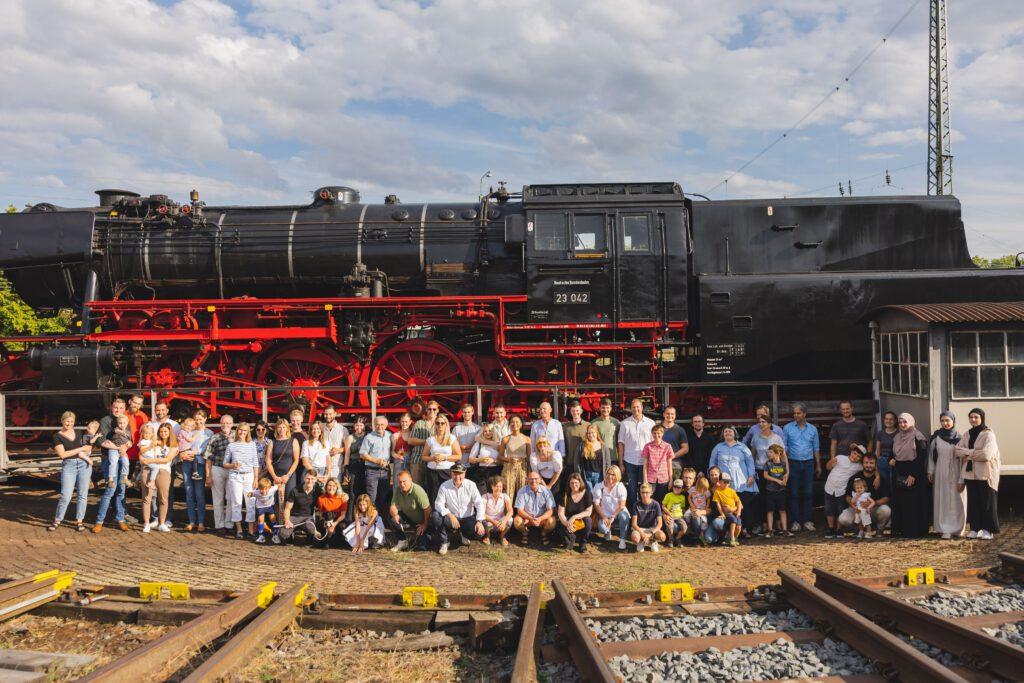 "The guests were all absolutely thrilled with what you organised"! – said Markus Hartmann, the owner of the Darmstadt-based structural engineering firm, about the successful company party for his employees. Around 80 guests gathered in the large roundhouse of the museum on the afternoon of 20 July to experience a special kind of company party, or rather a "special place".
Markus Hartmann and the association's team had meticulously planned the preparations for this event: A band was to play, space was to be created for 80 guests and a caterer was to be organised. With a specially ordered barbecue master and an ice cream van for the younger guests, a programme was put together that initially promised good conditions for a successful event. Since Markus Hartmann and his team had also carried out the structural inspection for the reconstruction of the locomotive shed section demolished in the 1960s, they had been in close contact with him and his office, so the idea of celebrating in the museum was born.
Those responsible for the museum did not miss the opportunity to create a suitable atmosphere for him: the specially heated ELNA 184 steam locomotive stood next to the barbecue master in the engine shed for cab tours, the forge was used to demonstrate how workpieces for locomotive repairs are forged and at the beginning there was a dignified welcome from the board with a beamer presentation about the activities of the museum's volunteers.
With Marienhof Metzgerei from Weiterstadt, Grillmeister Schröbel and Wennel-Eis from Groß Bieberau, it was possible to engage companies from the region, all of which contributed to a very successful company party. The five-piece band "cool breeze" then fired up the party from the early evening, giving the ELNA locomotive team a worthy replacement.
An unforgettable event for Markus Hartmann and his team, but also for the museum railway enthusiasts: Markus Hartmann became a member of the Friends' Association that very evening!
Are you planning a celebration in the near future that you would like to celebrate in a special industrial heritage ambience? The premises and vehicles of the railway museum can be booked for such events. Further information is available at: