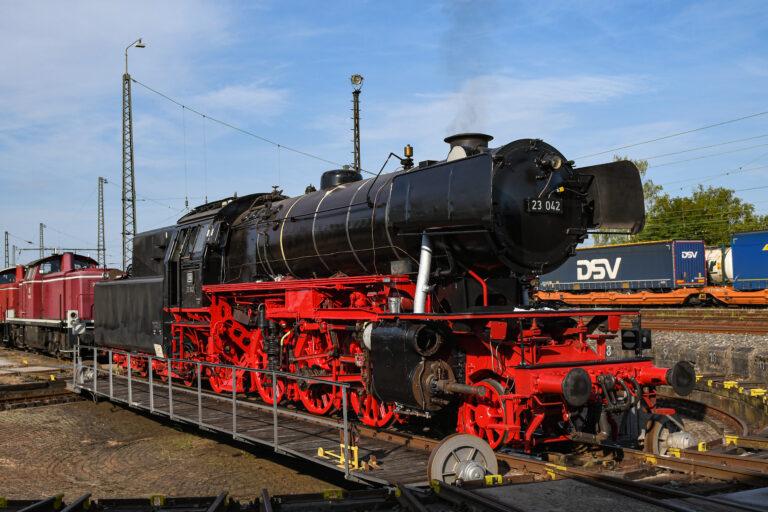 After more than 3 years, a fire could be lit again in the 23 042 on 22.07.2022. The boiler was slowly and carefully heated up. After about 6 hours, the boiler had the necessary pressure. The locomotive was first pushed out of the locomotive shed with the sliders removed by a small locomotive in order to blow out the cylinders at just under 6 bar. This removed dirt from the work from the steam engine. Further, the locomotive's aggregates (air and feed pump, as well as the alternator) were put into operation. Towards afternoon, the locomotive was pulled back into the locomotive shed to install the slide valves.
Blowing out the cylinders on the coal crane
First exit from the locomotive shed
Around 8 pm, the time had come. For the first time since May 2019, 23 042 moved out of the locomotive shed under its own power. The safety valves were then tested.
On Saturday, 23.07.2022, the locomotive was then heated up again for the warm pressure test. Furthermore, a basic lubrication of all lubrication points and several trips across the site for the staff involved in the main inspection took place. All in all, the warm-up was a complete success and the crew is very proud of what was achieved! Now minor deficiencies have to be worked on until the locomotive is completely ready for operation.