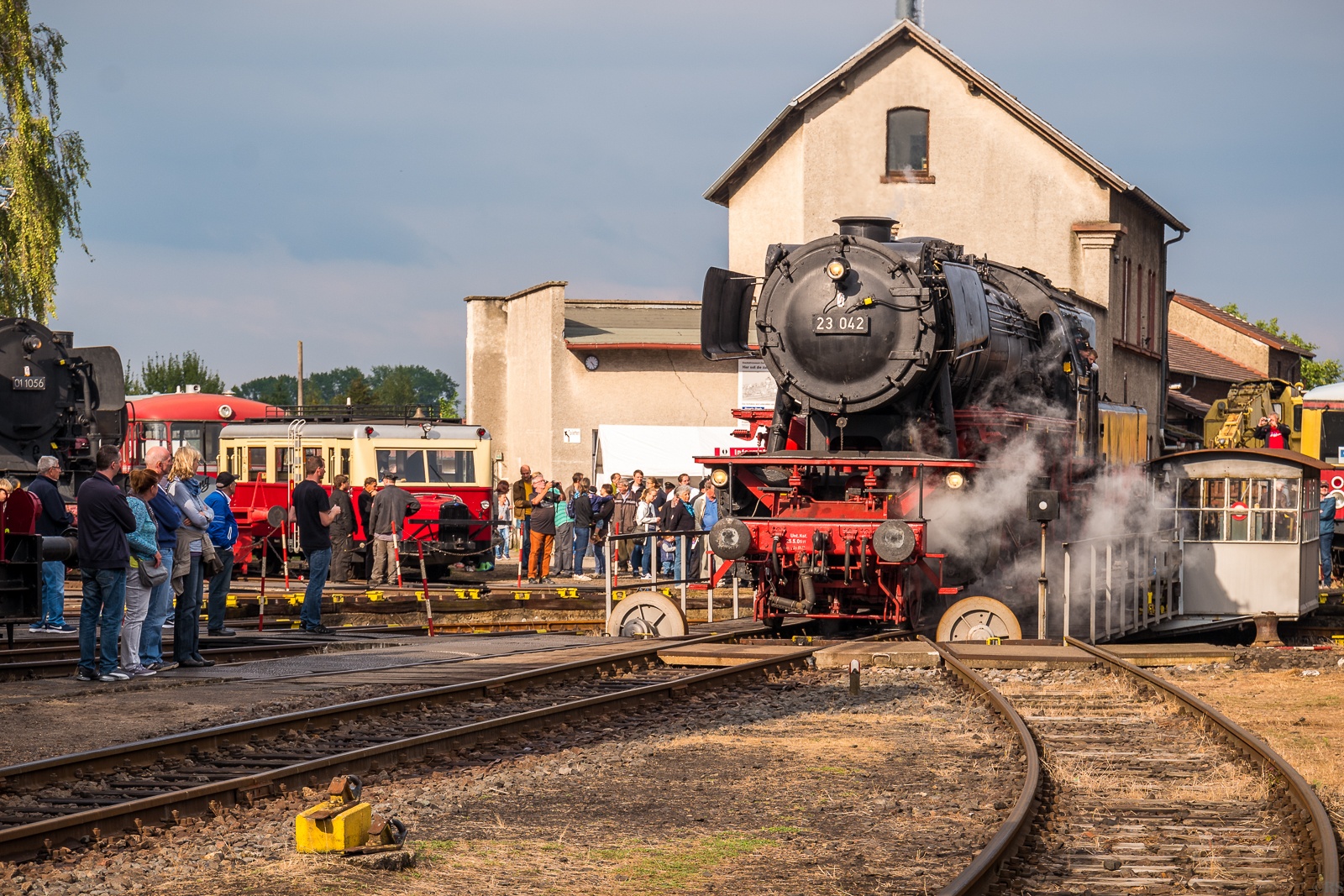 Kranichsteiner Bahnwelttage
As every year, we would like to invite you to our Bahnwelttage on the grounds of the Darmstadt-Kranichstein Railway Museum. In addition to the large programme of demonstrations, exhibitions and attractions for young and old all about the railway, we have once again come up with some special highlights.
Due to the Corona pandemic, we have not yet been able to celebrate the anniversary of the museum's sponsoring association in a fitting manner. We are all the more pleased that this year's Bahnwelttage will be held under the special motto "50+2 Jahre Museumsbahn e. V.". More details about the special programme will follow!
On Thursday and Saturday, a Uniform Parade is scheduled to take place at around 12.00 p.m., during which the historical clothing of various railway employees from different eras of railway history will be presented and demonstrated.
This year our friends from Alkmaar (Darmstadt's twin city in the Netherlands) are coming to the museum for the 15th time with a model layout. The theme of their layout this time is the "Museum Stoomtram Hoorn/Medemblik" (Hoorn/Medemblik Museum Steam Tramway). The model shows true to life how the line looks like on the section between Opperdoes and Medemblik. Some of the vehicles have also been faithfully reproduced.
You can get to the event site comfortably, in style and without worrying about parking with our feeder trains from Darmstadt main station. You can find the timetable below.
We look forward to your visit!
---
Programme (preliminary):
Around the locomotive shed:
Cab rides with alternating steam, diesel and electric locomotives (small additional fee)

.

Ride in the railway master trolley and the Wismar rail bus "Schweineschnäuzchen" (small additional contribution)
Demonstration of various locomotives and other traction units (including steam locomotive 23 042 and 184 DME)
Uniform parade (Thursdays + Saturdays)
Forge demonstration with air hammer use
Demonstration of a Zagro shunter with forklift drive
Road + rail combined transport demonstration using a Culemeyer road scooter

.

Railway book sale in the engine shed

.

MobaTrain – 3 railway mail coaches with model railways
Special exhibition "Railways in Darmstadt – Railways in Darmstadt then and now"
In and around the exhibition buildings:
Demonstration of the ticket printing plant and ticket exhibition
Rail superstructure exhibition
Model railway layout of the Main-Neckar railway station Darmstadt at Steubenplatz around 1846
Model railway layout of the Modelspoorclub Alkmaar: "Museum Stoomtram Hoorn/Medemblik" (Museum steam tramway Hoorn/Medemblik)
Uniform exhibition
Sale of coffee and cake in the cafeteria
Special tours (starting from the information stand):
Visit the driver's cab of various electric and diesel locomotives

.

The technology of a rack-and-pinion steam locomotive with a tour from below

.

The development of passenger coaches, their technology and passenger comfort

.
For our little guests:
5-inch steam train with passenger transport (small additional fee)
Kids' land with large bouncy castle and ball pool

.
Overview map of the event site (in German)
---
Admission fee
Regular admission fee:

| | |
| --- | --- |
| Adults: | 9,00 Euro |
| Children (4-14 y.): | 4,50 Euro |
| Families (2 adults + max. 3 children): | 22,50 Euro |

Admission fee on Family Day (28.05.2022):

| | |
| --- | --- |
| Adults: | 9,00 Euro |
| Children (4-14 y.): | 4,50 Euro |
| Families (2 adults + max. 3 children): | 18,00 Euro |
---
Feeder trains
As there is only a very limited number of parking spaces available around the Railway Museum, we recommend our feeder trains from Darmstadt Hbf directly to the event site. The P+R multi-storey car park is available at Darmstadt Hbf. On Saturdays/Sundays and public holidays, the maximum parking fee is 2.00 euros. The admission fee for the Bahnwelttage already include the return journey on the feeder trains. Tickets are available directly from the conductors on the trains.
You can travel from Darmstadt Hbf either "on normal track" or on a historic ARGE HEAG tram (except on Fridays). It is also possible to travel out on one type of train and back on the other.
All normal-gauge feeder trains arrive and depart at Darmstadt-Kranichstein station opposite the museum, all tram feeder trains at the Tram stop "Kranichstein Bahnhof". You can then reach the museum via the Jägertorstraße level crossing and Steinstraße (see plan of the grounds (in German)).
Historic "normal-gauge" train: Darmstadt Hbf -> Railway Museum and back.
| | | | | | | | | | |
| --- | --- | --- | --- | --- | --- | --- | --- | --- | --- |
| From Kranichstein Bahnhof | | 11:00 | 12:00 | 13:00 | 14:00 | 15:00 | 16:00 | 17:00 | 18:00 |
| To Darmstadt Hbf | | 11:20 | 12:20 | 13:20 | 14:20 | 15:20 | 16:20 | 17:20 | 18:20 |
| | | | | | | | | | |
| From Darmstadt Hbf | 10:30 | 11:30 | 12:30 | 13:30 | 14:30 | 15:30 | 16:30 | 17:30 | |
| To Kranichstein Bahnhof | 10:50 | 11:50 | 12:50 | 13:50 | 14:50 | 15:50 | 16:50 | 17:50 | |
Historic tram: Darmstadt Hbf -> Railway Museum and back (on all event days except Fridays)
| | | | | | | | | | |
| --- | --- | --- | --- | --- | --- | --- | --- | --- | --- |
| From Kranichstein Bahnhof | | 11:00 | 12:00 | 13:00 | 14:00 | 15:00 | 16:00 | 17:00 | 18:00 |
| To Darmstadt Hbf | | 11:20 | 12:20 | 13:20 | 14:20 | 15:20 | 16:20 | 17:20 | 18:20 |
| | | | | | | | | | |
| From Darmstadt Hbf | 10:30 | 11:30 | 12:30 | 13:30 | 14:30 | 15:30 | 16:30 | 17:30 | |
| To Kranichstein Bahnhof | 10:50 | 11:50 | 12:50 | 13:50 | 14:50 | 15:50 | 16:50 | 17:50 | |